State Champs!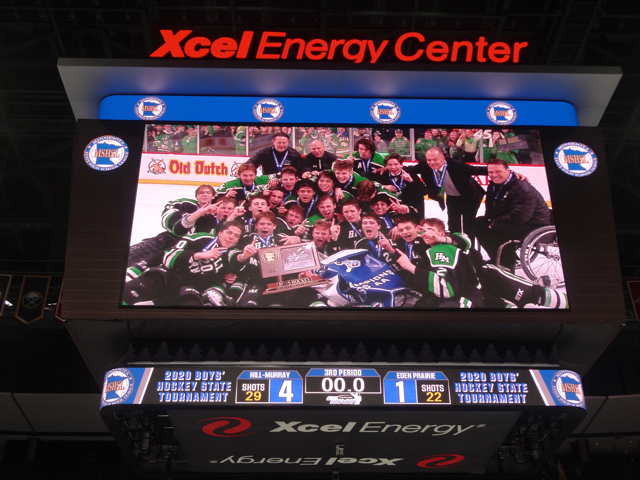 ---
News & Notes
HMPioneers.net is an alumni-operated site dedicated to chronicling the tradition of Hill-Murray boys hockey. The team has been active since 1960 and this site since 1999. Hill-Murray boasts one of the strongest high school hockey programs in Minnesota, with five six state championships and numerous regional and conference titles.
The 2019-2020 season will be the 60th for Pioneer Hockey; info can be found on the 2020 season page. Please also visit Hill-Murray Athletics for more information about the team. Thanks for your interest and support of Pioneer Hockey, and hope to see you at a game soon!
Update (Feb 18): Playoffs start this week. Follow 2020 playoff scores and view past seasons here.
Some trivia on longest active streaks in AA boys hockey (through 2019):
Most consecutive state championships: 1, Edina
Most consecutive state finals reached: 1, Edina, Eden Prairie
Most consecutive state semifinals: 2, Edina
Most consecutive state tournaments: 3, St. Thomas Academy
Most consecutive section finals: 19, Moorhead
Most consecutive section semifinals: 26, Duluth East
Update (Feb 28): Hill-Murray is the Section 4AA Champion. It's the 30th state tournament entry in 46 seasons as a state high school league member. View the replay of the section final on PrepSpotlight.tv.
Update (Feb 29): Mikey Anderson today became the ninth Pioneer alumnus to play in an NHL game. He debuted for Los Angeles and played against his brother Joey. Mikey played for Hill-Murray during the 2014 and 2015 seasons, and scored the decisive goal in the 2015 section final.
Update (Mar 7): Hill-Murray is the 2020 State Boys Hockey Champion! The Pioneers were 9-5-2 in mid-January, then went 13-1-1 over the second half of the season. Remington Keopple backstopped the team to the title and in the process set the school's all-time record for career saves and single season save percentage by a #1 goalie.
The latter record was held since 1978 by Jeff Poeschl, who by the way deserves congratulations for his first state championship as coach when Mahtomedi captured the Class A crown. Metro East teams had remarkable success this postseason, winning both state championships (previously done by HM and STA in 2008). Only one Metro East team was eliminated from championship contention by a non-Metro East school (Hastings lost its section final in OT).
The longest active postseason streaks, now updated through 2020:
Most consecutive state championships: 1, Hill-Murray
Most consecutive state finals reached: 2, Eden Prairie
Most consecutive state semifinals: 2, Eden Prairie, St. Thomas Academy
Most consecutive state tournaments: 4, St. Thomas Academy
Most consecutive section finals: 20, Moorhead
Most consecutive section semifinals: 20, Moorhead (last loss prior to a section final was to Willmar in 2000.)
Update (Apr 15): A few additions since the end of the season are now viewable. They include state tournament videos and a 15-minute season highlight video, linked from the 2020 season page or the video archive page. Also, new photos and a redesigned alumni page. Many thanks to Nick Johnson for providing the season video and Coach Luger for collecting the alumni photos.
------