News Archive
March 8, 2015
The 2015 hockey season is now complete. Congratulations to state champions Lakeville North and East Grand Forks. Lakeville North had the first undefeated season by a large school in 22 years. Duluth East, in what might be a first, finished as the runner-up while allowing more goals (89) than goals scored (88) for the season.
New section assignments for the next two years are set. There are substantial changes to sections 2AA, 3AA, and 6AA. 4AA acquires Woodbury but otherwise stays the same. Duluth Marshall will opt up to 7AA. A full list of schools opting up is here.
March 7, 2015
Forty years ago, on March 6, 1975, Hill-Murray played its first state tournament game at the Met Center. Here are the highlights, with the call from Joe Boyle and Lou Nanne on WTCN. Many thanks to Tony and Dave Reif for sharing this priceless video.
February 27, 2015
Hill-Murray is the Section 4AA Champion
35 years ago and just two weeks after the 1980 Olympics, Hill-Murray qualified for the State Tournament with a double overtime win at the Auditorium. Both are chronicled in this pre tournament preview show. Highlights of the HM-Mariner game begin around the 15:00 mark.
The 2015 tournament will be televised on KSTC Channel 45, and pay-per-view internet streaming is available.
February 22, 2015
Hill-Murray will play a section semifinal at Aldrich Arena for the first time in 32 years. The last time, the 1983 Pioneers needed a goal with one minute remaining to dispatch Stillwater en route to a state title. Aldrich did host the Section 2AA semifinals as recently as 2002, but has never hosted a AA or one-class section final. It hosted the Section 4A final for many years. 4A is now at Roseville, the first playoff games in any round to be played at Roseville Arena since 1984.
February 12, 2015
Hill-Murray is the Metro East Conference Co-Champion
February 5, 2015
Zach Mills scored on a penalty shot against Hastings, and unless I'm missing something, this is the first successful penalty shot by a Hill-Murray player in 18 years (Jesse Unklesbay scored against Burnsville during the 1997 season.)
Feb 5 is Hill-Murray's first ever game at Hastings Arena. Until January, the two schools had never played each other, Hastings being the only AA school with any past hockey significance that Hill-Murray had not played. On the A side, Hill-Murray has never played Hermantown, a school which mirrors Hill-Murray's performance in that they are a frequent state tournament participant and have the most second place finishes.
January 24, 2015
Here's a report that looks at the distribution of when goals are scored throughout a hockey game. It categorizes every goal over the past 12 seasons according to which minute of the game it was scored.
HM Hockey: When do goals happen?
For a sneak preview, here's a graph of the total goals by both teams by the minute.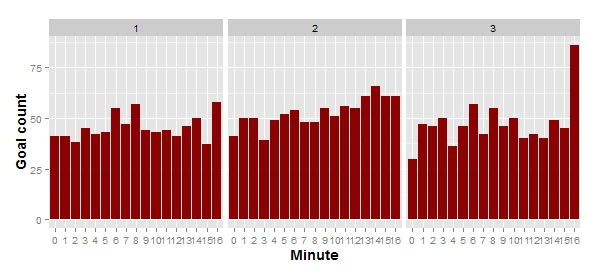 January 18, 2015
Video highlights of Hill-Murray's overtime win on the outdoor ice at the St. Paul airport broadcast on FSN.
As many of you know, founding principal and legendary band director Frank Asenbrenner passed away last month. For decades, his pep band charged the atmosphere at all home hockey games. Here, Mr. A raises the 1983 championship trophy alongside captains Tom Follmer, Mark Krois, and Mark Horvath.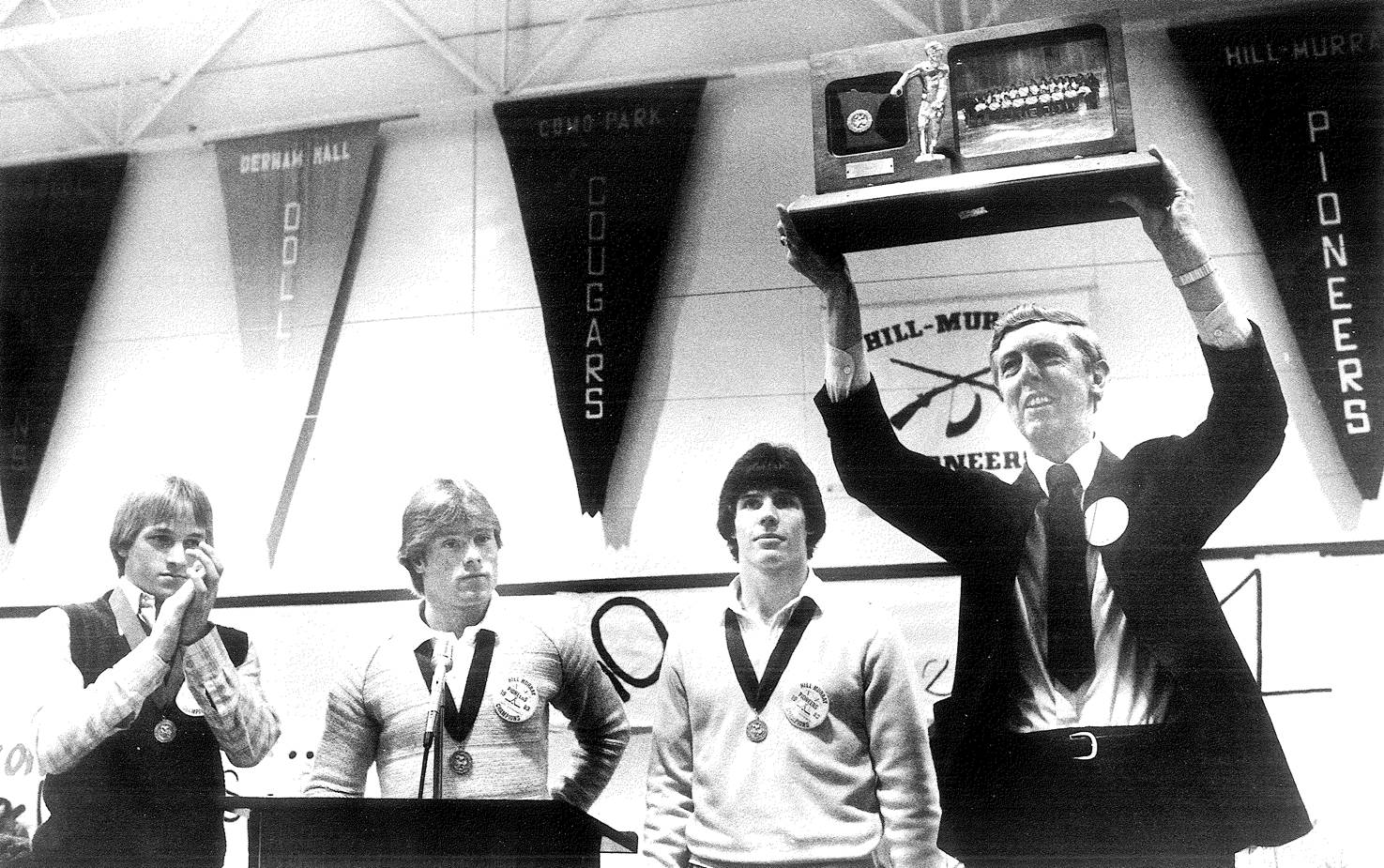 December 29, 2014
Full schedule for this week's holiday tournament, plus link to live streaming of the games.
Hockey Day is January 17. Get info from the sponsors here.
December 8, 2014
How to name a Pioneer
The most common last names to appear on a Hill-Murray roster:
7: Johnson
6: Belde, Regan
5: Conroy
4: Miller, Reif, Langevin, Horvath, Larson, Klosner, Sampair
Johnson is not much of a surprise; it is after all the second most common surname in the United States. However, there has been just one Smith (#1), Brown (#4), and Jones (#5), and no Williams (#3).
Now for the most common first names:
32: Mike/Michael/Mikey
22: Joe/Joey
21: Dan
19: Mark
18: Tom, Jim
17: Dave/David
16: Steve
14: Matt, Jeff
13: Pat/Patrick
11: Brian/Bryan
10: John, Bob/Bobby, Rick/Ricky
Those 15 names represent 45% of the total, but as evidence that name diversity has been increasing over time, only 3 current Pioneers are represented on that list.
November 5, 2014
Season 55 of Pioneer hockey is underway!
New lockerrooms are under construction at Aldrich Arena.
Hill-Murray will play another outdoor game, this one at the St. Paul Airport on January 17.
Updates to hmpioneers.net since last season: a large table detailing playoff performance by all Minnesota high schools over the last 40 years.
And some new info on individual scoring leaders and other historic feats is on the team records page.
Copyright 1999-2019 hmpioneers.net
.