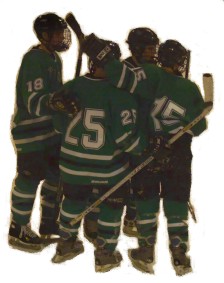 News & Notes
Here's a report that looks at the distribution of when goals are scored throughout a hockey game. It categorizes every goal over the past 12 seasons according to which minute of the game it was scored.
HM Hockey: When do goals happen?
For a sneak preview, here's a graph of the total goals by both teams by the minute.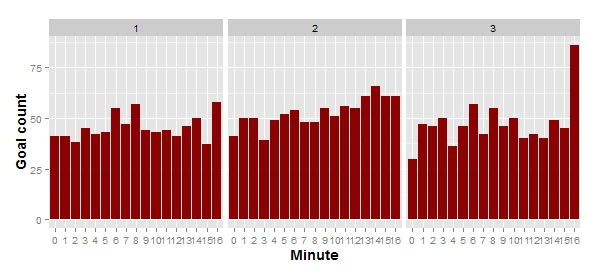 ------

Video highlights of Hill-Murray's overtime win on the outdoor ice at the St. Paul airport broadcast on FSN.
As many of you know, founding principal and legendary band director Frank Asenbrenner passed away last month. For decades, his pep band charged the atmosphere at all home hockey games. Here, Mr. A raises the 1983 championship trophy alongside captains Tom Follmer, Mark Krois, and Mark Horvath.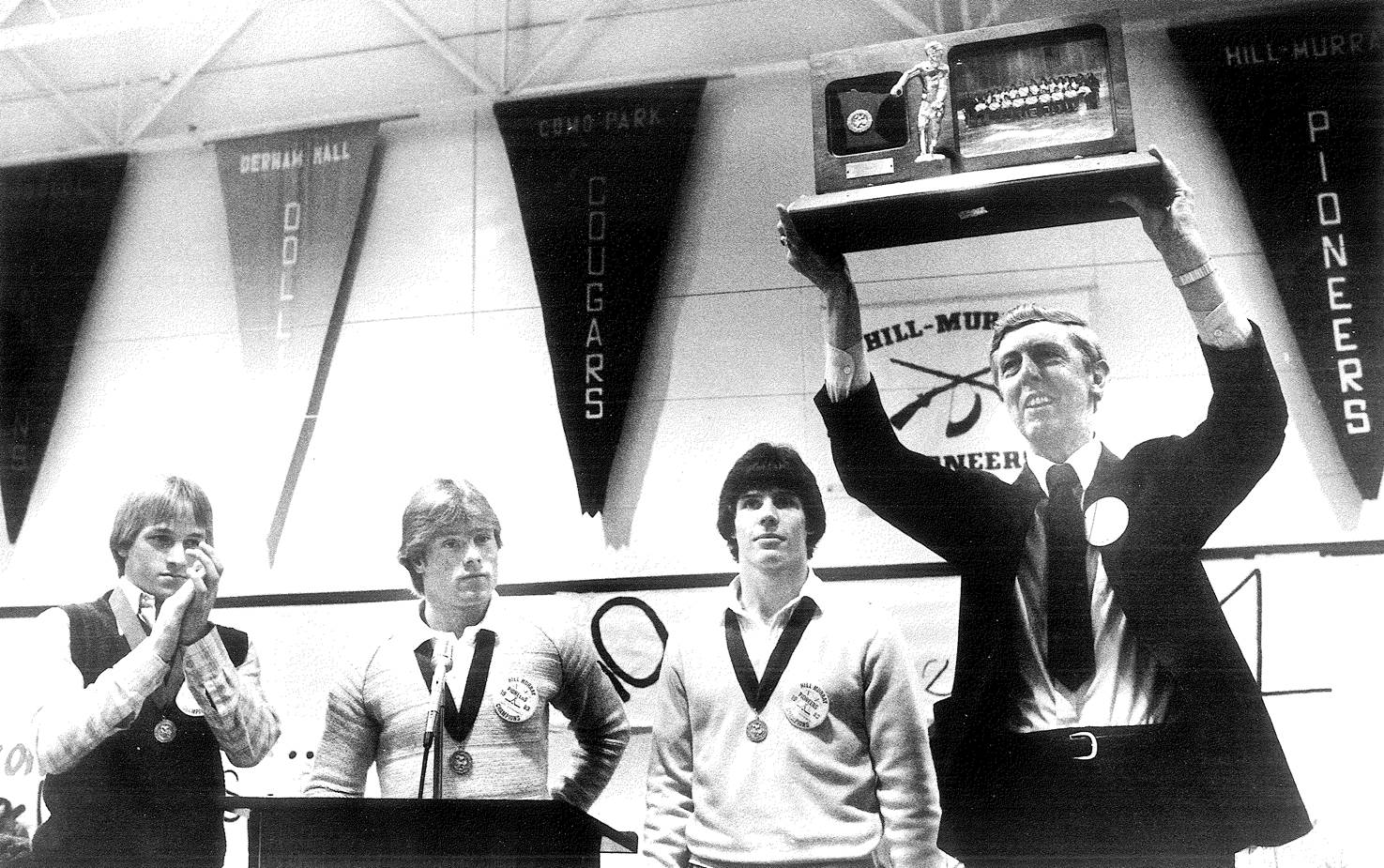 ------

2014-2015 Schedule
Day
Date
Opponent
Score
Location
Time
Sat
11/22
Burnsville
3-2
W
Aldrich
7:30
Sat
12/6
Benilde-St. Margaret's
5-3
W
St. Louis Park Rec. Center
2:30
Tue
12/9
Hibbing
4-1
W
Aldrich
6:00
Sat
12/13
Mahtomedi*
5-1
W
Aldrich
7:30
Tue
12/16
Blaine
3-4
L
Fogerty Arena
7:30
Thu
12/18
South St. Paul*
7-2
W
Aldrich
7:30
Sat
12/20
Maple Grove
3-0
W
Aldrich
7:30
Tue
12/23
Lakeville North
3-4
L
Aldrich
7:30
Mon
12/29
Eden Prairie
2-3
L (OT)
Ridder Arena
2:30
Tue
12/30
Eastview
5-1
W
Ridder Arena
12:00
Wed
12/31
Edina
1-3
L
Super Rink
12:30
Sat
1/3
North St. Paul*
9-1
W
Aldrich
7:30
Tue
1/6
Wayzata
2-1
W
Plymouth Ice Center
7:00
Thu
1/8
Hastings*
6-1
W
Aldrich
7:30
Sat
1/10
Edina
3-6
L
Braemar Arena
7:00
Thu
1/15
Tartan*
2-1
W (OT)
Tartan Arena
7:30
Sat
1/17
St. Thomas Academy*
3-2
W (OT)
Holman Field
1:30
Thu
1/22
Henry Sibley*
7-0
W
West St. Paul Arena
7:30
Sat
1/24
Mahtomedi*
0-4
L
St. Croix Rec. Center
5:30
Thu
1/29
Simley*
-
Aldrich
7:30
Sat
1/31
White Bear Lake
-
Vadnais Sports Center
7:15
Thu
2/5
Hastings*
-
Hastings Arena
7:30
Sat
2/7
St. Thomas Academy*
-
Aldrich
7:30
Thu
2/12
Tartan*
-
Aldrich
7:30
Sat
2/14
Moorhead
-
Aldrich
2:30
Overall Record 13-6-0
---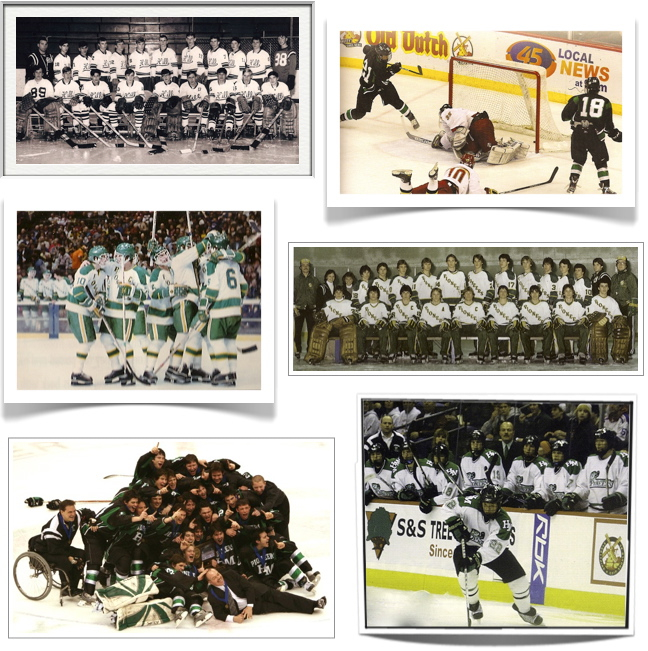 ---
[Home] [History] [Roster] [Video] [Links]
Copyright 1999-2014 hmpioneers.net